Are you seeking a green screen background for enhancing digital effects for your movies or videos? In this post, you will learn about some of the top-rated screens, each with its description and imagery.
Compare various brands in terms of size, fabric, and price to learn which one is perfect for you. Continue to read ahead to learn more about the green screen video background.
Part 1. Top 5 Green Screen Backgrounds
Box-office hits, such as Star Trek or Matrix, have achieved splendor and brilliance, mainly due to their sound and visual effects. These were achieved through CGI (Computer-generated imagery), Chroma Keying, and Green Screen Backgrounds.
Talking of background screens, it is not only worthwhile for stunting video effects but also has many practical uses, such as in newsrooms, for weather analysts, and for video-oriented informative sessions.
Here we shall discuss some of the best green screens available on the market.
If you trust big brands and want to skip the bothering decision-making process, you can choose Elgato without hesitation. As a popular choice among customers, Elgato has placed itself as one of the most reliable brands, with high-sales volume and convenient pricing options. It is wrinkle-resistant and has been optimized for Chrome Keying. It is made up of 100% polyester, offers a quick-drying process, and is stain-resistant. And you can choose from different types according to your requirements: a Collapsible one or a Wall/Ceiling Mount one.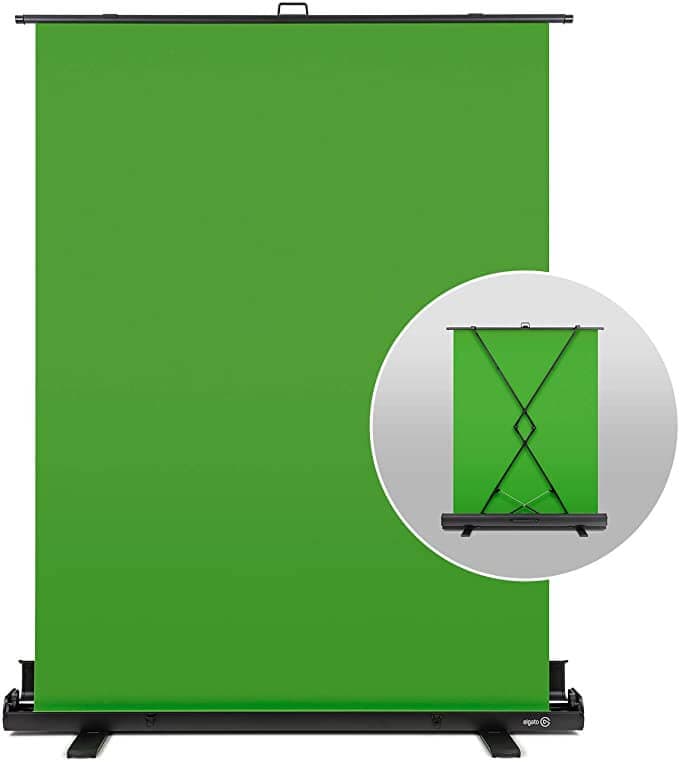 Stand: Collapsible X-frame for locking the screen
Size: 148 x 180 cm (Collapsible) and 200 x 180 cm (Wall-Mount)
Weight: 9kg (Collapsible) and 5.4 kg (Wall Mount)
Color: Green
Portable: Yes
Price: $153.99 to $159.99 USD
Pros: Good quality. Wrinkle-free. Ultra-quick deployment. Pop-up tech. Concealable design. Includes a metallic storage case for easy transport
Cons: Not wide enough. A little bit expensive.
If you want to get a green screen background for party or festivals, Heysliy Green Cover can be the right one for you. Also, most people find it a perfect background for Zoom/Team call. It ensures easy switch up, 90% light transmission, is machine-washable, and easy to clean. It features an adjustable telescoping mechanism for aligning the stand as desired. Lastly, the screen can be fixed within a quick time to get your work started.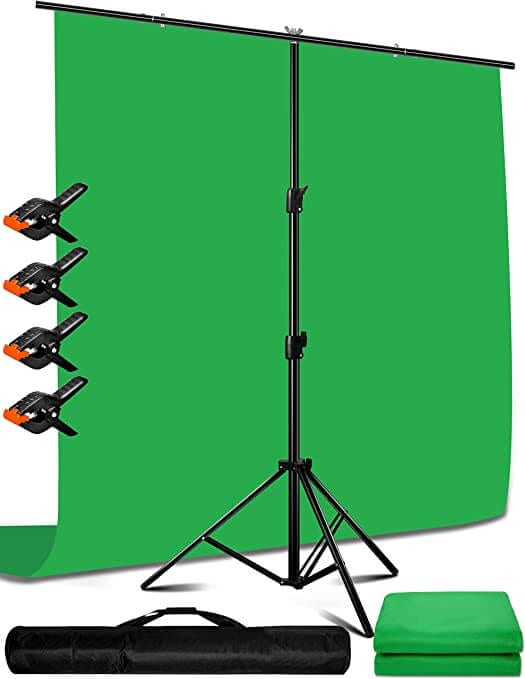 Stand: Aluminum-alloy T-shape Stand
Stand Height: 6.6 x 6.6 ft.
Size: 6.5 x 9.6 ft. (Backdrop)
Weight: 1.8 kg
Color: Green
Portable: Yes
Price: $54 to $70 USD
Pros: Light-weight and portable. Easy to store/carry/clean.Cost-effective. Doesn't take up much space. Positive customer feedback. Screen offers a sewn-in loop
Cons: Not wide enough. T-bar is flimsy and can sag at the ends
If you're looking for an affordable green screen background used for newborn and children photography, then Emart Photo Studio Green Background Cover is the optimal choice. It is a single-piece material made from 100% cotton, which can help you to record the most beautiful smiles of your baby in a safe, healthy, and comfortable shooting environment. It absorbs a large quantity of light, offers a neat vertical sense, and entails gas permeability.
Apart from newborn photography, this kit can also be used for weddings, streaming games, photography, video production, and digital photography perfectly. No matter whether you're an amateur, a YouTube content creator, or a professional photographer, it can meet your needs.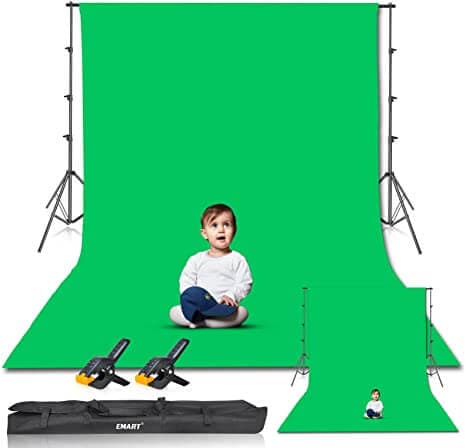 Stand: Two aluminum-alloy support stands with an adjustable height mechanism
Stand Height: 3 - 8.5 ft.
Crossbars: 5 - 10 ft.
Size: 10 x 12 ft.
Weight: 12.87 pounds
Color: Green, Blue, Black, and Grey
Portable: Yes
Price: $49 - $80 USD
Pros: Easy to assemble. Good quality and safe. Large enough. Cost-effective. No background slippage.
Cons: Prone to wrinkles because it is thin and cotton, but you can remove the wrinkles by hanging it up. Crossbar is not telescopic.
If you're looking for a portable green screen made for Zoom, videoconferencing, gamers, streamers, and content creators, Green Screen Background from Valera offers content artists excellent shooting and editing facilities. It is optimal for Zoom Calls and Video Conferences. Customers have also praised it for its photoshoots. It renders dual screening modes, i.e., portrait or landscape mode. Moreover, you can easily alter the screen height or mount it on a wall. The fabric is wrinkle-resistant and provides an even distribution of light rays. Lastly, it is compatible with mobile apps and software for video production and live streaming.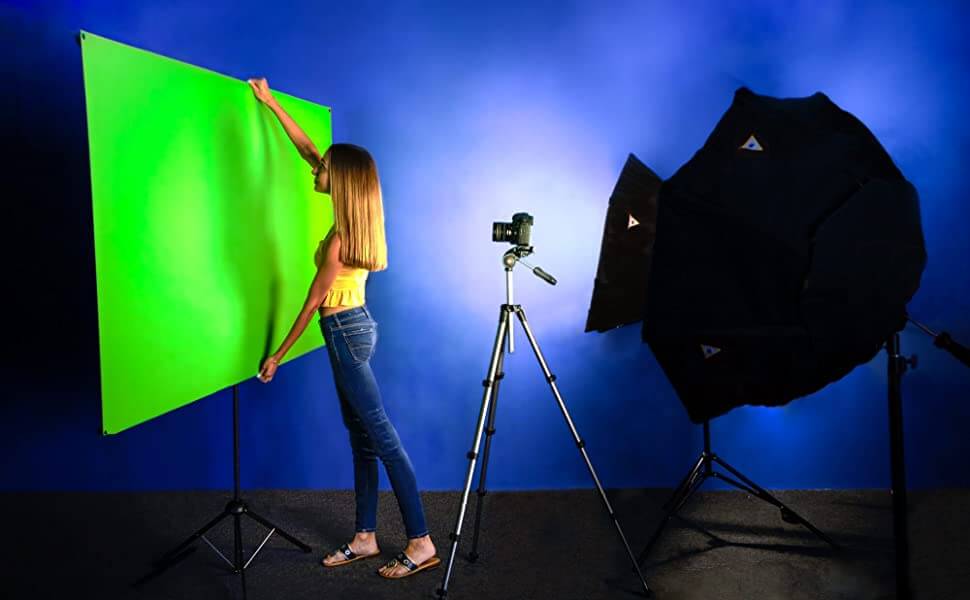 Stand: Tripod stand with outdoor stabilizing bar and four support arms
Size: 6.67 x 3.89 ft.
Weight: 3.85 kg
Color: Green
Aspect Ratio: 16:9
Portable: Yes
Price: $129 - $140 USD
Compatible with: iMovie, XSplit, Dolnk, PS4, and others
Pros: 16:9 Widescreen ratio for "plug & play" with Zoom Virtual Backgrounds. Wrinkle-resistant. Easy setup. Lightweight. Dual functionality. Compatible with mobile applications
Pros: Not wide enough.
With lightweight features to work with, MountDog Green Screen is ideal for Photography, Weddings, Parties, and Live Streaming. No matter it's for professional portrait video shooting in photo studio or for creative production at home studio. It is constructed of environment-friendly soft fabric that can be used on both sides; it is convenient to use and store. All edges are professionally lockstitched to prevent tears in the material. Also, it can be dry-cleaned, or machine washed if necessary. The design of the crossbar holes allows them to be draped or hung.
It offers a non-reflective surface with easy background removal in Photoshop and other software. It is soft, wrinkle-resistant, and can be ironed at low temperatures.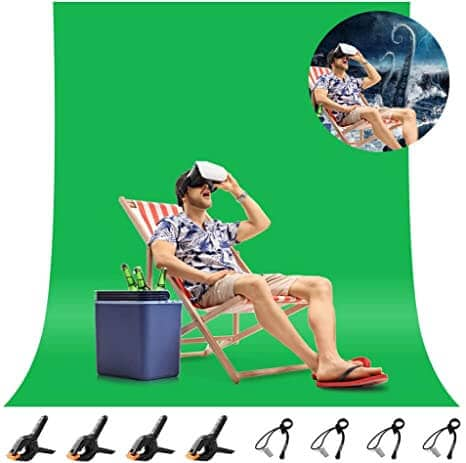 Stand: Not included
Size: 10 x 12 ft.
Weight: 1 kg
Material: 100% Polyester
Color: Green, Black, and White
Portable: Yes
Price: $32 - $66 USD
Pros: Eco-friendly soft fabric. Edges are designed to prevent tears. Machine washable. Variety of colors. Suitable for beginners
Cons: A little bit thin.
---
Part 2. Where Can I Download Free Green Screen Video Backgrounds?
With several websites offering green screen backgrounds to manage your work, it is your prerogative to select which one provides the best deal. Below are 5 different websites to get different background images and videos.
Pexels is a renowned website known for its huge collection of background photographs and videos for the public and businesses alike. With a growing capacity of 3.5k users, this website has 194,000 photos and 376000 videos, each with its attraction and hues. The virtual green screen will look mesmerizing and give a sleek look while you conduct your meetings or discussions.
Pexels provides backgrounds for your smartphones, laptops, gamepads, and green suits. On the other hand, the videos are linked to different situations relating to offices, sceneries, close-ups, and others. If you're opting for variety, then Pexels is one of the best.
Best used for: Photographs of Nature, Businesses, and Home Decorations are used as wallpapers and backgrounds.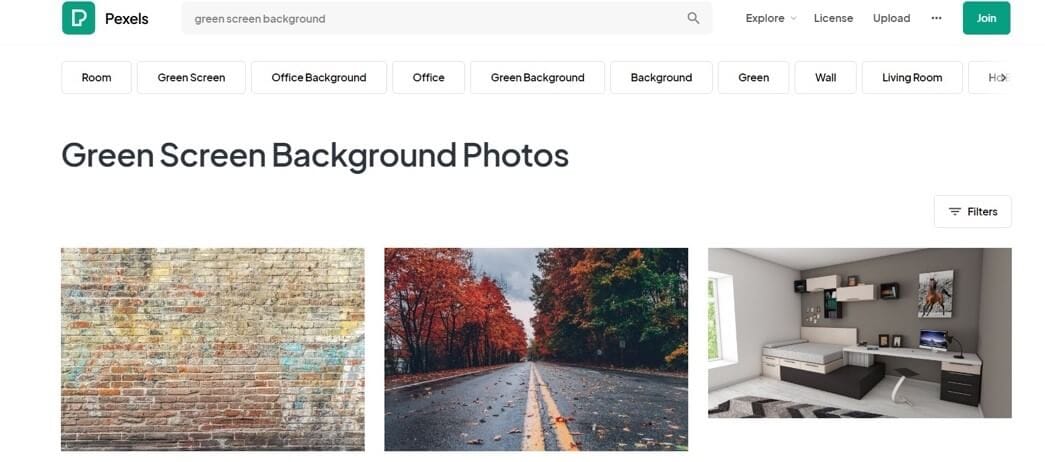 Shutterstock renders fantastic videos, photographs, and innovative tools to enable creative professionals of all backgrounds and businesses to offer their best, all on one single platform. With a sizeable amount of backgrounds available for the user, it is one of the top-ranked websites in terms of variation and ingenuity.
Over 100,000 stock videos and video clips are available.
Vast video collection
Categories include entertainment, news, sports, and royalty, to name a few.
Add music to make your backgrounds more fun.
Simple editing tools
Best used for: A renowned website for photographs and videos, Shutterstock is optimal for backgrounds related to 3D Designs and Natural Sceneries.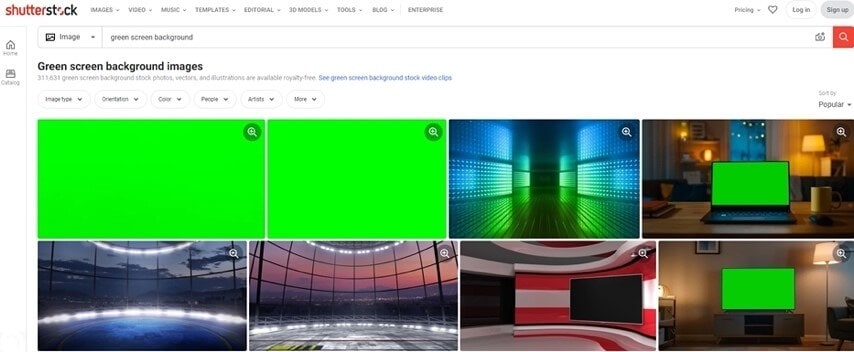 Pixabay is a thriving community that shares royalty-free photos, videos, drawings, and music. All the content is licensed under the Pixabay License, making it secure to use without asking for permission or crediting the artist - even for commercial purposes.
Pixabay offers a diverse range of photographs for the green screen backgrounds that entail nature, decorations, and occasions, like Easter, Christmas, etc. It comes with an easy sign-up process that is free for all users. Apart from that, you can upload your collections too.
Pixabay offers a diverse range of photographs for the green screen backgrounds that entail nature, decorations, and occasions, like Easter, Christmas, etc. It comes with an easy sign-up process that is free for all users. Apart from that, you can upload your collections too.
Best used for: For several years now, Pixabay's collection has been mostly used for scenic backgrounds and nature.

A group of approximately 200,000 photographers, over 1 million curated photos, and a download count of over 2 billion, Unsplash is a community-driven website that has contributed various pictures and videos to help spark creativity and attraction. Via the Unsplash license, you can access them for your background or other uses.
Best used for: If you want to get high-quality close-in pictures, then UnSplash is the ideal website for you.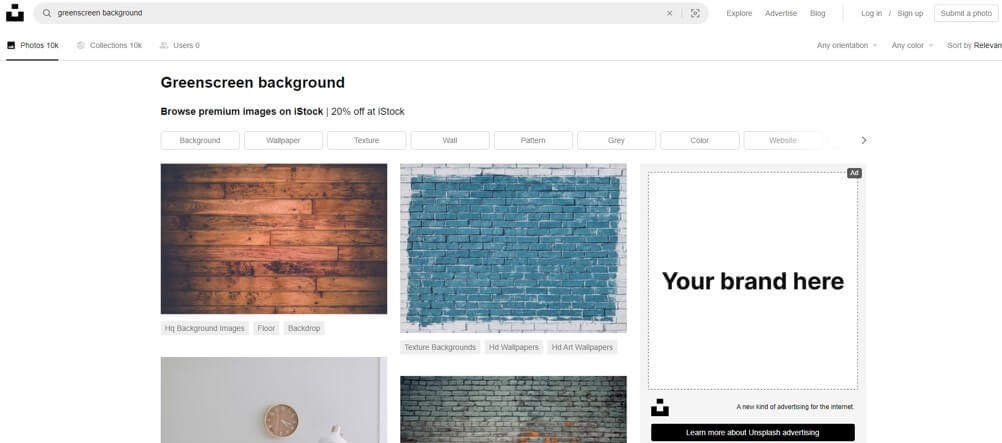 Videezy is a portal with countless free stock video clips, backdrops, and more, ranging from sharing HD quality movies to free green screen backdrops and stunning video footage.
It also provides a vast collection of royalty-free video clips for personal and commercial use. However, you should verify the licensing information for each clip to ensure your favorite footage is available or not.
CC0 licensed videos
Free green screen backgrounds
Ultra-high-definition resolution for photographs and videos
A wide range of topics are covered
Best used for: Videezy is best opted for Corporate and Commercial Snapshots used in various movies or photoshoots.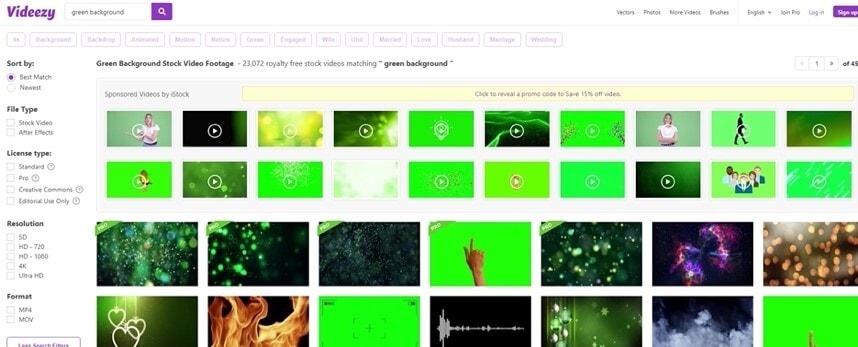 KEY TAKEAWAY!
We hope you have gained vital information on Green Screen Brands and how to download backgrounds from different websites. The websites and products mentioned above are top-rated in the market, and you will have no problems using them. Some of them also provide warranties for a certain period.
---
Part 3. How to Use Green Screen Backgrounds in Filmora Video Editor
Filmora Video Editor is perhaps the best product out there for getting free green screen backgrounds and editing green screen videos. Filmora Video Editor comes with novel features that let you play with your videos with various marvelous tools. It has a Green Screen feature for users to make impossible scenes possible.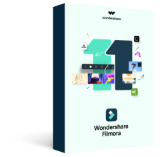 Key Features of Filmora Video Editor:
Green screen: Allows users (including beginners) to emulate the professional "green screens" used by professionals.
Filters & overlays: Provide a number of filters including light leaks, old film, cinema flair etc.
PIP: Picture in Picture option helps you to overlay a picture or video with another on the screen to depict a memory or tell a story in different angles.
Title & Transitions: 100+ transitions for your video clips. Intro and credits clips that you can add to give your green screen videos an interesting start and end.
Rotate, trim, crop and merge: This video editor has all the basic editing requirements for video making.
[Tutorial]
How to Add a Background to Green Screen Video
Before starting to create a green screen video, you need to shoot video clips before a green screen backdrop. Or you can also download some green screen background videos from Filmora or from the websites we list in Part 1.
Step 1: Import your videos and drag to timeline
Drag and drop your videos to Filmora Video Editor first. Alternatively, you can click the "Import" icon to import your videos to this program as well. Then drag and drop your videos to the video track in the timeline to continue.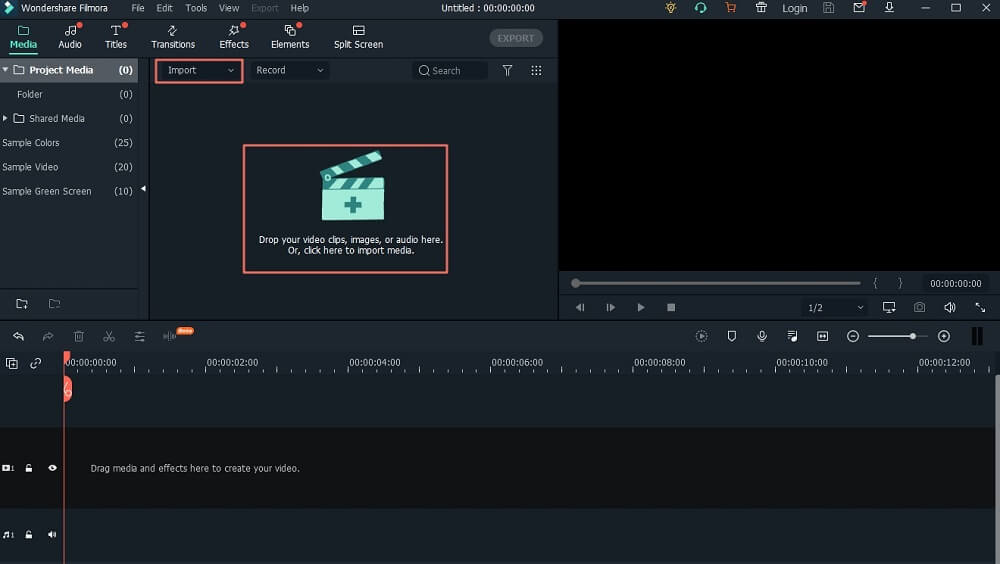 Step 2: Remove video background with green screen
Right-click on the green screen background video, you will get a drop-down menu immediately. Now you should choose "Green Screen". Then you will see the green screen background become transparent.
Tip: If you have a video background with other color background, such as black/blue/yellow, you can select the color in the settings according to your needs.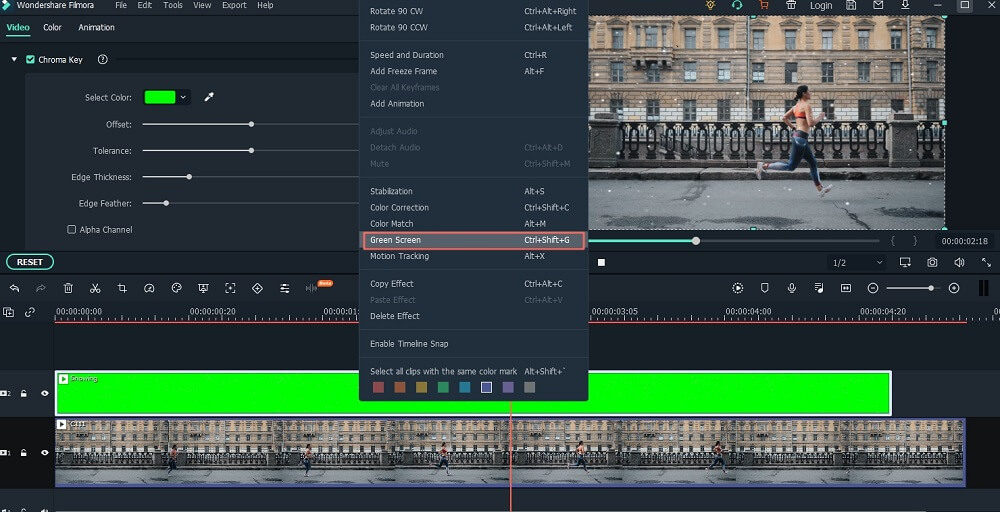 Step 3: Add the new video background
After all the settings, you can now personalize a cool background for the video by dragging the new video background file to the timeline.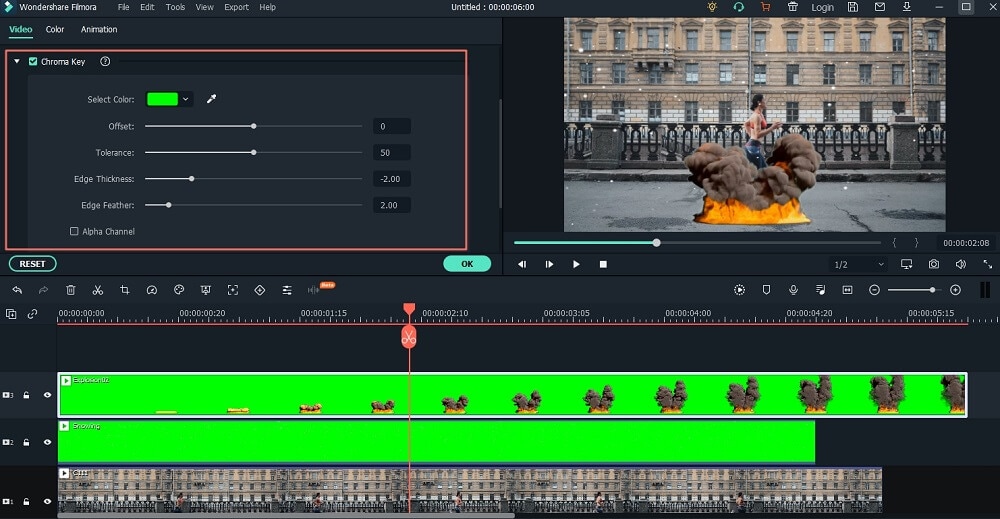 ---
Part 4. Frequently Asked Questions
Q. Which shade of green is suitable for the screen background?
A. Look for colors like "chroma key green" and "digi green" in non-reflective green screen material. These colors have been toned to work well.
Q. What makes an excellent green screen background?
A. If you're using a green/blue screen for photography or visual effects, you'll need to use light stands to provide proper lighting in the room. A lighting kit is essential because it allows you to have greater control over the overall appearance and feel of the background. It helps in making post-production video editing and image formation easier.
Q. Which green screen is the best?
A. It's difficult to find the ideal green screen background because there are so many to choose from. However, because of its high-quality construction, adequate size, and low price, the Elgato Green Screen is one of the most accepted options on the market.
Q. For what purpose is the green background used?
A. Green screen is a visual effects method (VFX) that involves layering two pictures or video streams together. You can use it for photography, film-making, news reporting, weather forecasting, and presentations.
Q. Why green background is used for videos?
A. Green Screen is a technique for combining or joining two images or video streams, which is also known as Chroma key in Wikipedia. No matter you are a beginner or a professional, a green screen function could help you to make a cool video.
Q. Where can I get green screen background videos for free?
A. You can get FREE green screen background videos on websites such as Videvo, Videezy, Motion Elements, Filmstock, and in Filmora Video Editor as well.